Latest News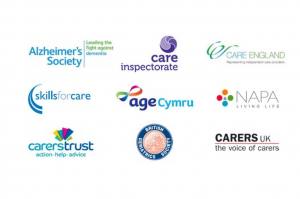 11th May 2014
Living well through activity in care homes
A useful new set of guides which provide advice to older people in care, their families and the care home sector, about how people can stay active and live well when they move to residential care.
The guides have been introduced by the College of Occupational Therapists, and endorsed by a wide range of organisations that support and guide the care sector (as pictured above), including Alzheimer's Society and Care England, and we're particularly keen on the guide which is geared to residents and their families. It contains practical tips on how relatives can help their loved ones to settle in, stay happy and active, and also to recognise when things aren't quite going to plan. The guide also provides some realy useful suggestions for activities during visits which is definitely worth a read.
Making a life history
One of the suggestions made in the new guides is the creation of a life history for new residents who are moving into a care home. This is something we wholly endorse - we find it's a lovely thing for families to do with, and for, their relative who is moving into Tweed View Care Home, and it also gives our staff lots of things to talk about as they get to know our new residents.
We've now created a check-list for making a life history, so please ask for one when you visit.